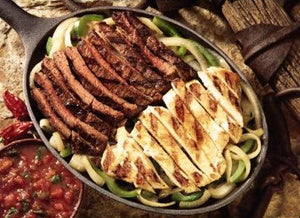 SIZZLIN' FAJITAS


2 TB Fajita Seasoning by Twisted Pepper Co.
2 lbs. chicken breast or flank (skirt) steak
1/2 cup Worcestershire sauce
1/2 cup soy sauce (light is better for lower salt)
1/2 cup white cooking wine
Combine in bowl first 4 ingredients, pour 1/2 mixture in a large zip lock baggie & marinate 2 lb chicken or steak, place in refrigerator for 2 to 4 hours.
Take 2 onions, slice cross-wise making round pieces. Make a "boat" out of heavy duty aluminum foil (turn up sides and squeeze ends together), place onions inside and pour remaining mixture on onions adding 2 Tb Butter, and up to 1/2 cup water.
Put on grill for 30 minutes, (check often so liquid does not evaporate and onions do not burn). Remove chicken or steak from refrigerator and grill for 5 to 10 minutes a side (depending on heat of grill), or smoke for 20 to 30 minutes on your smoker.
Slice meat and put on serving tray and pour onions over the top. Serve with tortillas, guacamole, cheese, and salsa..