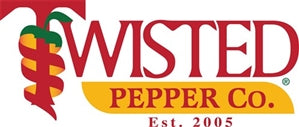 Twisted Pepper Co.
was established in 2005.
All

of our products are signature recipes by Ellie Hughes.

Ellie believes in using only the freshest and all natural ingredients. Hand blended and packaged daily.
Ellie develops the recipes just like she would cook at home.
She has been reading labels
on products for over 25 years and has done research understands the
different names of
preservatives and sugars and
how they are hidden in our foods today.

She cares about Quality and Taste!
Her products are the proof!
NO MSG, GLUTEN FREE
LOW & LIGHT SODIUM
MORE FLAVOR, BETTER INGREDIENTS!