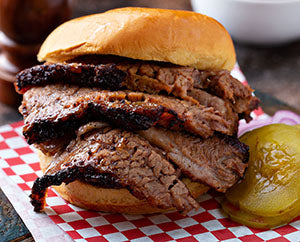 Brisket Rub Marinade Recipe
Brisket Rub Marinade "Cow Hide"

1 brisket 10 lb.
Cow Hide Rub by Twisted Pepper Co.
1 1/2 Red Wine Vinegar or Beer
1/2 cup Worcestershire Sauce
1/2 Lite Soy Sauce
Options: Beer, Wine, Juice, Coca Cola, Be Creative!

Mix together rub and liquids and marinate the brisket in the refrigerator 12-24 hours.
Ready to smoke, 225° to 250° for several hours, (1 1/2 hours per pound). The next step is a basting spray, a couple of times per side during the cooking process to add some moisture and flavor. Don't spray for the first 3 hours.

When brisket has reach the desired internal temperature (185°-190°), remove from grill. Wrap in plastic wrap, then aluminum foil, and set in an empty cooler for 1 to 2 hours. The plastic wrap will ensure that the juices retreat into the center of the brisket, helping to give you the moistest slices you can imagine.